Supporting Washington Care Providers & Families Since 1989.
Perinatal Support Washington (PS-WA) is a statewide non-profit committed to shining a light on perinatal mental health to support all families and communities. We believe all parents should receive appropriate, timely, and culturally relevant care from conception to baby's first birthday. Find out what's new at Perinatal Support Washington.
Our toll-free telephone support line, the "Warm Line", has been operating since 1991, providing peer support to parents in need. We also offer free and low-cost new parent support groups, mental health therapy, andtraining and consultation for health care providers, and education and advocacy. We do all of this with the help of our dedicated staff, board members, and dozens of volunteers.
While we are based in the Seattle metro area, our support resources are found all over our beautiful state of Washington. Check out our directory to search for resources in your area, or learn more about opportunities for collaboration in your community, or become a professional member of Perinatal Support WA.  Perinatal Support WA is proud to manage the WA Postpartum Support International State Chapter.
Kay Hwang, PS-WA Program Support Coordinator
Kay Hwang joined PS-WA in 2021 and provides program and operational support. She has worked in higher education for 12 years and finds it fulfilling to serve individuals, families and care providers in the perinatal professions since 2011. 
Eager to play a role in advocating for mental health care and wellness, she is gratified to provide assistance and learn from other people's diverse perspectives and experiences. 
Kay studied economics at the University of Washington and resides in Seattle. She loves yoga, the changing seasons, exploring different cultures & cuisines, and cats.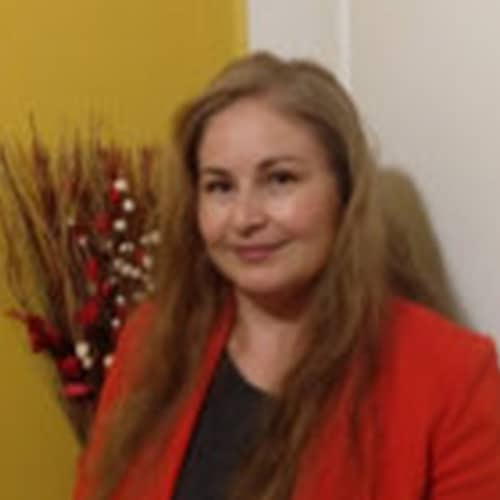 Aida Juarez, Spanish Warm Line Coordinator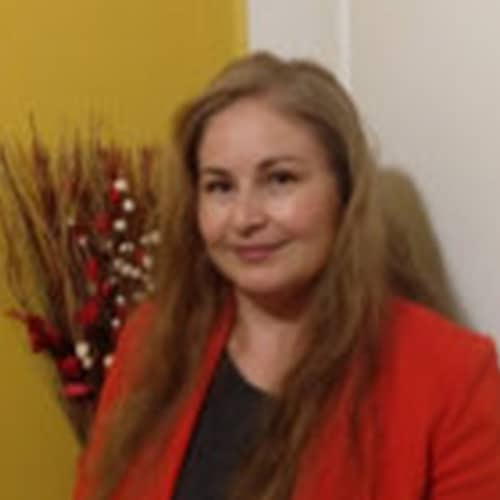 Aida Juarez, Spanish Warm Line Coordinator
Aida coordinates our Spanish Warm Line, supporting our Spanish-speaking callers, developing culturally-relevant policies and procedures, and translating outreach materials. Aida joined PS-WA after attending a group peer support (GPS) training in Yakima.
For the past 20 years, Aida has been working with pregnant mothers, infants, and their families, providing brief counseling and referrals as a certified counselor and lactation specialist. She is the Social Services Department Manager at Tri-Cities Community Health, running the day-to-day operations of the department's Maternity Support Services, WIC, Peer Counselor, and Outreach Programs.
Aida.Juarez (at) perinatalsupport (dot) org
Jazmin Rico Diaz, Parent Resilience Specialist
Jazmin Rico Diaz, Parent Resilience Specialist
Jazmin Rico Diaz was born in Mexico City and grew up between Seattle and South California. She is the mother of two boys and the survivor of a pregnancy loss and two emergency C-Sections. She is driven by her experience and resilience to support others.
Jazmin has her BA in Psychology and went to school to become a Mental Health Therapist, but parenthood changed her path. As she was going to school she was also working in various roles supporting families. Jazmin is bi-lingual and has always loved volunteering as a parent coordinator, supporting minorities and non-English speakers. Having worked in the medical field: from being a receptionist for the medical and behavioral health department as well as an Executive Assistant, Behavioral Technician, working with kiddos on the spectrum, Jazmin has a passion to support parents. After reflecting and looking into her experience with trauma, pregnancy, loss, postpartum, and going through it alone, Jazmin's passion led her to PS-WA. "I felt that I belonged and being a part of the PERC program makes me feel that I'm home. Doing what I once needed someone to do for me - to be there."
Latonia Westerfield, Parent Resilience Specialist
Latonia Westerfield, Parent Resilience Specialist
Latonia joins Perinatal Support Washington as a new team member of The Parent Education and Resilience Collaborative (PERC) program. She will support pregnant and parenting families as a parent resilience specialist and serve as an encouraging resource and witness for parents navigating the mental health landscape during the perinatal period. Latonia has spent the last 6 year advocating for families, attending births, and providing compassionate care as a birth doula and student midwife. She is very close to completing her training as a student midwife at Birthwise Midwifery School and is set to graduate this winter. After graduation, she will continue to apprentice with local midwives of color to meet the requirements for WA state licensure. 
Prior to beginning birth work, Latonia studied maternal and infant morbidity and mortality as an undergrad and social-cultural anthropology major at University of Washington until she graduated in 2011. In all of her work and roles, Latonia uses the framework and lens of reproductive justice, equity, inclusivity, and radical rest politics to critically examine and dismantle structural and systemic inequality and oppression. Latonia lives with her five vibrant daughters in South Seattle, where lots of dance parties take place in the kitchen while cookies are baking. She looks forward to the springtime when she can spend countless hours nourishing her soul in the garden with her hands in the warm earth. In the meantime, she enjoys binge listening to podcasts that center black femme narratives.
Clysta Cole, Parent Resilience Specialist
Clysta Cole, Parent Resilience Specialist
Clysta is an Inuit/YuPik mother and proud to be one of the first ever Parent Resilience Specialists to join Perinatal Support Washington. Clysta joined the team with a background of life experiences of continued trauma from childhood trauma, furthering trauma experiences, and is a Domestic Violence survivor. She is an advocate for reducing trauma with a passion for peer support as well as being trained as a full spectrum Indigenous Doula and a 2020-2021 Native Action Network Leadership Cohort participant. She volunteers her time in her community including being the first Aunty with United Indians of All Tribe's Ina Maka Family Program. 
She understands the importance of being supported and feeling supported in all aspects of our lives, especially during the perinatal period. With the knowledge she gained from the combination of life experience, navigating mental health care, and her individual journey through finding her foundation in healing, she knows that we need to have more support in our communities, especially for our mothers in the early stages of their journey. She is a firm believer that it takes a village to raise a child, she also knows that it takes a village to support our parents.
Perinatal Support Washington is a small but mighty statewide nonprofit and we are growing. We do a lot with very little - thanks to the help of our volunteers! If you are interested in volunteering or joining our Board of Directors contact us here.
Board openings include: Fundraising, Diversity, Equity, & Inclusion (DEI), Legal, & more!
Learn more about board membership.
Volunteer opportunities include: Warm Line Support, helping out at events, sharing your story, and more.
Julia Beach-Ba is a Clinic Manager for MultiCare Health System, who helps diverse populations navigate the medical system. Julia has worked in the healthcare field for over 10 years.  She has worked for other organizations such as Swedish Medical Group and Neighborcare Health. A graduate of Western Governors University (Masters: Healthcare Administration) and Evergreen State College (Bachelors: Social Work & Community Service), Julia has been able to interact with patients in both a clinical and non-clinical setting. She works with a population that spans cradle to grave.   
Julia is a mother of three children consisting of twin boys and a daughter. She identifies that there are many women who struggle with the demand to find a balance between motherhood and careers. This is the force that continues to drive her to help with finding and developing resources to make life enjoyable. In her free time she likes to travel, spend time doing water activities and cooking with her family.
Angie Myers is a fundraiser specializing in planned giving for an international aid organization creating opportunity for families to thrive. After losing 2 pregnancies, and experiencing postpartum mood disorders after the birth of both of her children, Angie realized the strength mothers possess, and their ability to heal when they are adequately supported during one of the most vulnerable times in their lives. Angie believes that the grief we endure in life is powerful as it can motivate us to reach out to support others facing similar challenges.  She does this by advocating for financial resources, and sharing the incredible story of the life-changing, and sometimes life-saving, services that Perinatal Support of Washington can provide. She has a background in wealth management, community engagement, and fundraising for a variety of nonprofits, but feels most called to support families with young children.
Angie lives in Snohomish County with her husband, a teacher and football coach, and her two children and two rescue pups. In her free time (what's that?!) she is an avid reader, furniture refinisher, and student of using power tools.
Gabrielle Frank is a community health dietitian with a passion for supporting the holistic wellbeing of families. She has been helping families with food access and nutrition counseling before, during and after pregnancy in rural, central Washington since 2019. Prior to her current work, she assisted individuals with making long-term lifestyle changes to improve their health and reduce their risk for chronic illnesses. She is a new mother who experienced the emotional challenges of a complicated pregnancy. This experience and her newfound journey into motherhood has deepened her commitment to ensuring women and partners feel empowered and supported as they navigate the birthing and parenting experience. She enjoys creating unique vegetarian recipes and spending time outside with her family.
Maggie Meyers works as Deputy Chief Communications Officer for the Washington State Charter Schools Association, a statewide nonprofit that supports a free, public, innovative options that meet the needs of systemically underserved students. A communicator by trade and at heart, Maggie is a fierce advocate for families who have been marginalized in and beyond our education systems. Maggie's own experience becoming a mom and navigating the preconception to postpartum period fuels her deep belief in the importance of maternal mental health care, and to PS-WA she brings a commitment to increasing access to just, equitable, and quality care for all parents.
Maggie previously worked for a local, women-owned marketing firm, and as an NYC magazine coordinator, freelance editor, and writer for various magazines and children's book publishers. Maggie earned her B.A. from Bowdoin College and holds a Master of Education in Language, Literacy, and Culture from the University of Washington. Outside of work, Maggie is in the throes of early childhood parenting with her husband and enjoys chasing their two young sons around Seattle's parks and playgrounds.
THANK YOU TO OUR FUNDING PARTNERS:
and...
individual donors like you!